050 874 66 88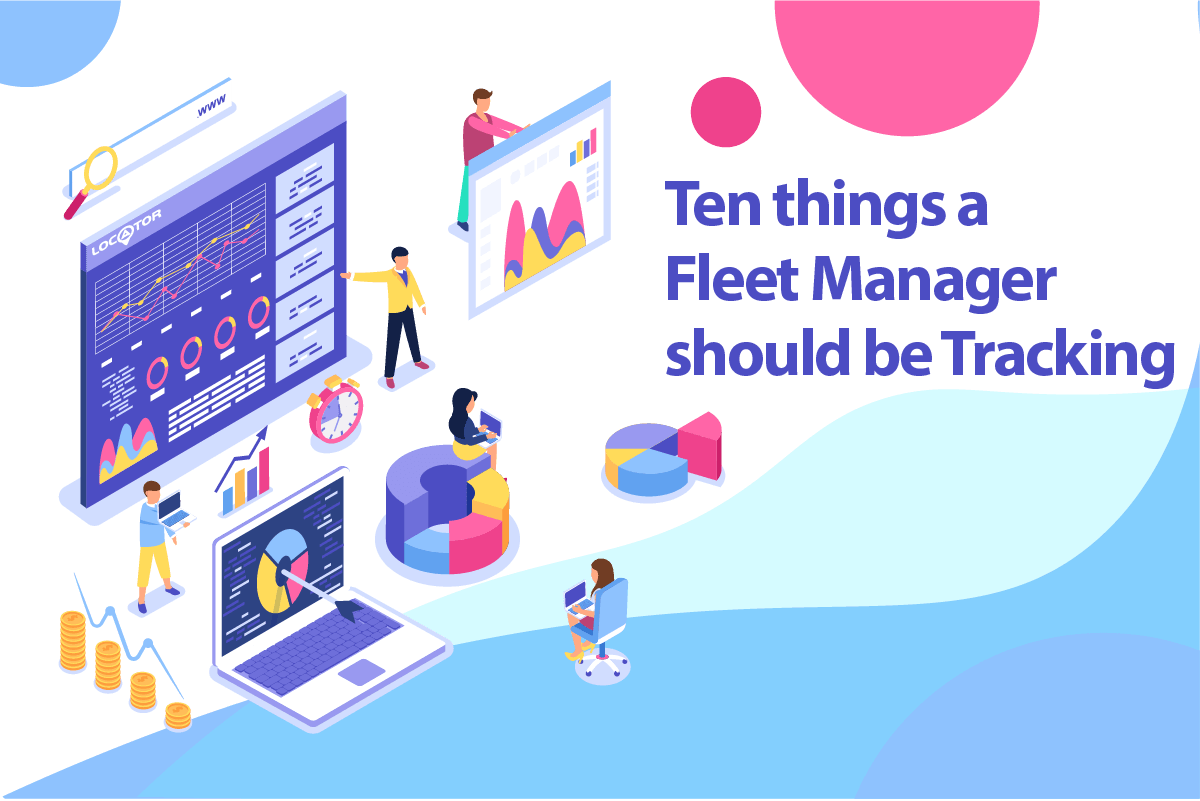 Ten Things A Fleet Manager Should Be Tracking
Decision making for your fleet operations comes from data gathered throughout a certain period of time. Having a centralized data for your metrics results to an easier access to view how your assets are doing. There can be a lot of metrics to measure, which may or may not be related to each other, but all serves leverage for a fleet manager's decision making. To give you an idea on which metrics to prioritize, here are the ten metrics we think you need to prioritize.
1. Preventive Maintenance Practices
Preventive Maintenance, as the name stated, prevents future costly repairs for your assets. It is the responsibility of fleet manager to monitor and make sure that preventive maintenance schedule is being followed. A fleet management software like LOCATOR gives an overview of the Preventive Maintenance tasks making it easy to ensure that schedule are being followed.
2. Repair Turnover
A day in a repair shop means a day lost for productivity of your vehicles. While repair and maintenance is important for a smooth operation of your fleet, it is also important to make sure that these are being completed on time. A fleet management software not only helps you monitor the schedule of repairs and maintenance, it can also give you a report of the status and completion date, ensuring the productivity of your maintenance team.
3. Odometer Readings
Odometer is your gateway to other fleet insights. Scheduling the preventive maintenance, determining vehicle replacement, and others, tracking odometer ensures you are prepared. Receiving regular odometer updates allows you to keep track of the vehicle conditions. Thru odometer readings, you can also monitor drivers and track fuel costs. Most fleet managers consider using telematic devices to eliminate risk of manual errors in odometer readings.
4. Total Cost of Ownership (TCO)
Knowing your fleet's TCO allows you to make decisions confidently about your business, like whether to purchase or lease vehicles in the future, replace vehicles, etc. Fleet management software calculates TCO from your fleet's data. You can also get a breakdown of the expenses allowing you to calculate your Return On Investment (ROI).
5. Asset Utilization
Utilizing your asset helps you get the most out of your fleet. You may discover whether you have the right size of fleet or not. An asset which was not used for a long period of time but does not affect the productivity can be better of being sold for profit. On the other way around, you may also found out the need to increase your fleet for a better productivity. Proper asset utilization can help you avoid costly expenses and increase your ROI.
6. Vehicle Replacement
At first thought, vehicle replacement is hurtful to the company's budget. If you are going to analyze carefully, using aged vehicles that requires being on the shop for repair most of the time, actually costs more rather than investing on a new one. Being on the repair shop rather than being use in the operation lowers the ROI.
7. GPS and Telematics
Integrating your GPS and telematics on a fleet management software increases the value of data it provides. Storing the data and generating it into a report helps you proactively monitor driver behavior and identify harmful practices that can affect the driver and vehicle.
8. Accidents and Safety
Safety should be the number one priority. It is a critical aspect of a fleet which should be closely monitored like the maintenance and repairs. Implementing safety procedures into your fleet management system can help monitor that your fleet is in compliance. Fleet management software can alert you of any vehicle or driver misbehavior on the road, therefore helping you to take actions quickly.
9. Driver Assignments
Assigning vehicles to drivers allows you to quickly monitor specific driver behavior and distinguish which driver is accountable in case of accidents or road fines and penalties. Some fleet managers use a driver identification system which is integrated on the fleet management software. With this, they can get a compilation of reports on durations, mileages, spending, and others, and assess driver behaviors that need improvement.
10. Technical Productivity
Related to Repair Turnover, technical productivity is important in getting your vehicles back on the road for operation. Downtime of the vehicle means a decrease in productivity. While this automatically incurs costs, a decrease in production means a lesser ROI. Fleet management software can help you monitor the Technical Productivity and be aware of how long it takes for a vehicle to be repaired on the shop.
From Our Blog List Latest Feed
We are right here to share the valuable insights on our area of Expertise. We help you to master on managing your Vehicle & Team.
6
Mar
4 Simple Steps to get your Vehicle Permit in ASATEEL and start operating in Abu Dhabi.
It seems that you are looking to register you company in ASATEEL and obtain a Vehicle Permit to start your business operations in Abu Dhabi.
Read More
8
Feb
We make ASATEEL Certified OBU Installation Simple!
As you are aware, the Integrated Transport Centre (ITC) in Abu Dhabi mandates all operating passengers' transport services by buses and freight transport operation companies has to register on the ASATEEL platform.
Read More